Katla McGlynn is a writer, editor and person living in New York. Since graduating from Pace University, she's served as Comedy Editor at The Huffington Post, Social Editor at truTV, and written or created stuff for Vanity Fair, Vulture, The New York Times, Salon, Refinery29, Paste Magazine, Slate, The Observer, Uproxx, Reductress and more. She's currently Manager, Digital Content at HBO and is represented by New Leaf Literary. Oh, and she's half-Icelandic and named after a Volcano there, which hasn't been weird at all.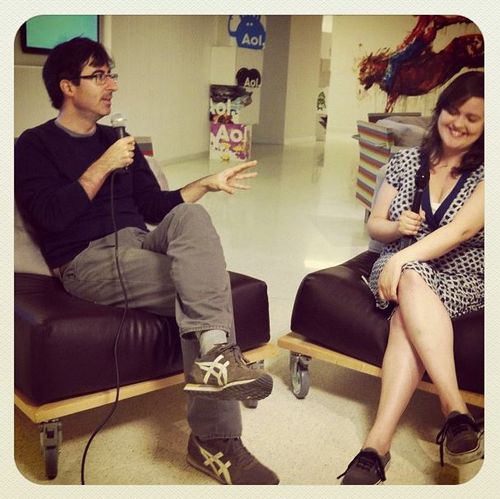 Here's me being cracked up by John Oliver in 2012.
While at HuffPost, she was the host of the bi-weekly podcast "Too Long; Didn't Listen," created of the first comedy web series set in a ladies' bathroom, "Stallin' With Dave Hill," and produced the four-part holiday expose, "Jason & Katla's War On Christmas." In addition to covering and creating comedy, she regularly recapped AMC's "The Walking Dead" for HuffPost TV. Afterwards, she served as Editorial Strategist at Someecards.com, did social media writing for IFC, and what the hell, here's her Linkedin.

This one time they let me and my brother sit at Conan's desk. It was pretty cool.
Her work has also appeared on Aol Build, My Damn Channel and in The Onion back when she was an intern there. She is a UCB alum, having studied improv under Chris Gethard, Charlie Todd, Christina Gausas, Michael Delaney and Billy Merritt, among others. In 2013, she was the keynote speaker at Princeton University's National Intercollegiate Humor Conference and appeared in a video series for The Pet Collective called "Memed." In 2014, she was a featured guest on The Comedy Cellar's Sirius XM radio show and The Laughspin Podcast as part of NYC Podfest.

Hi I'd like to talk to you about cat videos k thanks bye.
In 2015, she appeared on a panel at SXSW titled "The Hidden Power Of Humor," where she talked about how social causes can use comedy to make change, did an "uncomfortable interview" with Dan Harmon for Seeso, and appeared on the Laugh Button's two-part year in comedy podcast. In 2016, she was featured on truTV's one-hour documentary about the movie Tommy Boy, and moderated a panel for the Brooklyn Comedy Festival titled "Turning Your Passion Into Your Profession," featuring comedy, art and editorial producers.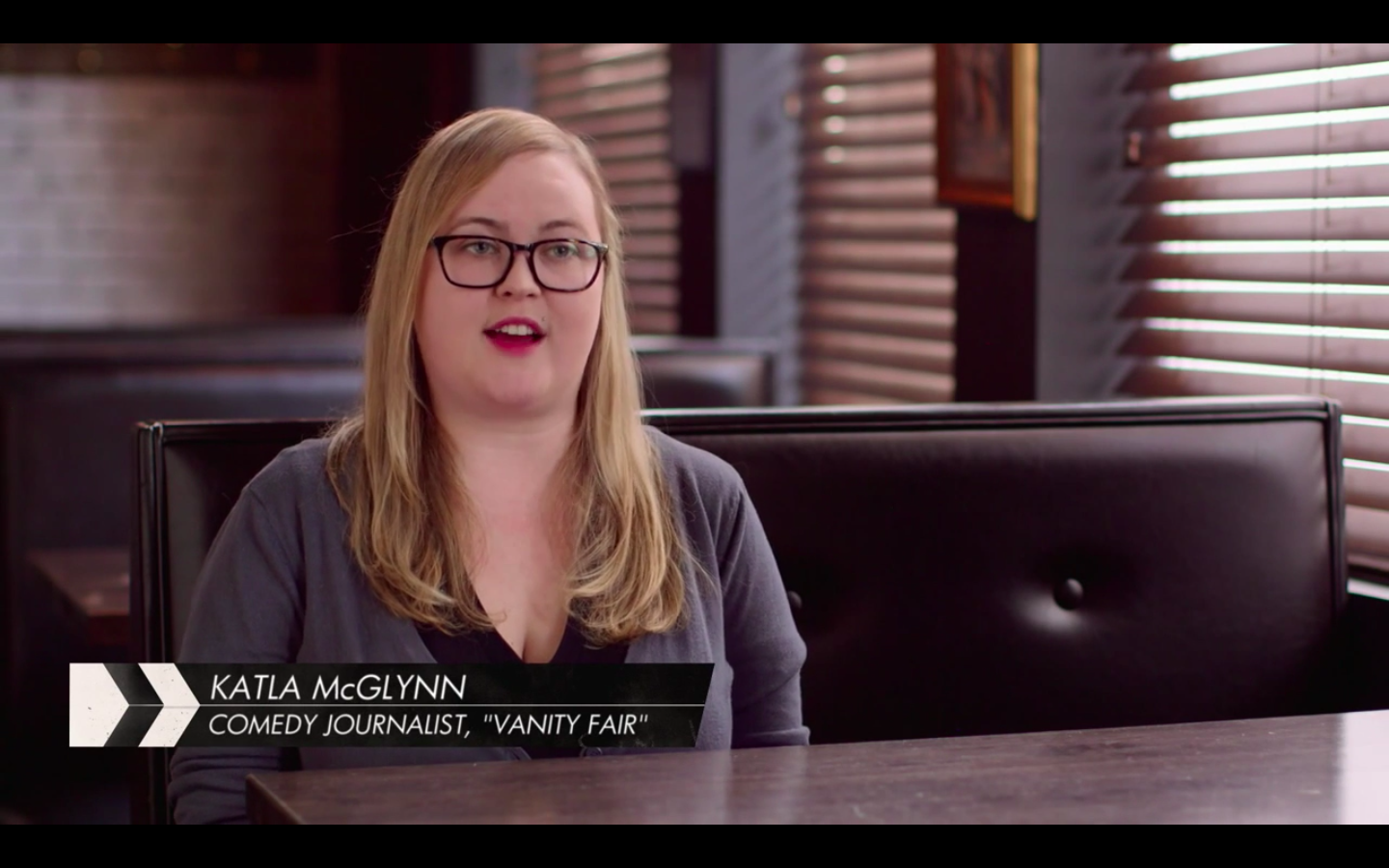 Hi I'd like to talk to you about Tommy Boy and this waiter is taking forever.
In January 2017, she was published in the New York Times, which was pretty cool. In June she moderated a panel on influencer marketing for Turner that was 20% about the Kardashians and 30% jokes about Fyre Festival. In September, she won a Cynopsis Rising Star Award, just barely scraping into the coveted "Under 30" award category that makes media professionals fear aging.
In March 2018, she was spoke on a SXSW panel on using Twitter for TV entitled Death Of Second Screen? Live Tweets In A Binge World. In December 2018, she got to interview the legendary Karen Allen after an Academy screening of "Scrooged" at Metrograph.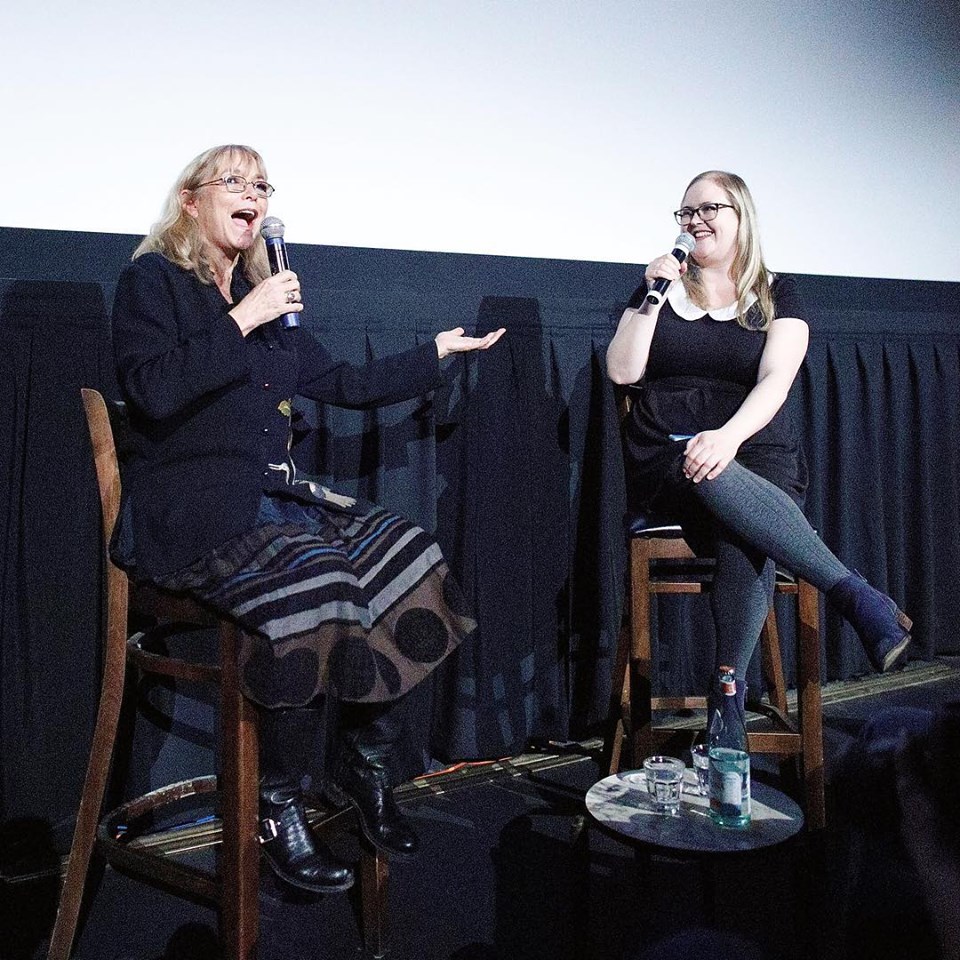 So what's it like to be Indiana Jones' girlfriend?
Her biggest accomplishment to date, however, is having once led a week-long viral campaign to find and meet Bill Murray at South By Southwest. She succeeded.

No one will ever believe this.
The best way to follow her work is by following her on Twitter and Instagram or subscribing to her updates on Facebook. Most recently, she is looking forward to not having to write in the third person anymore.